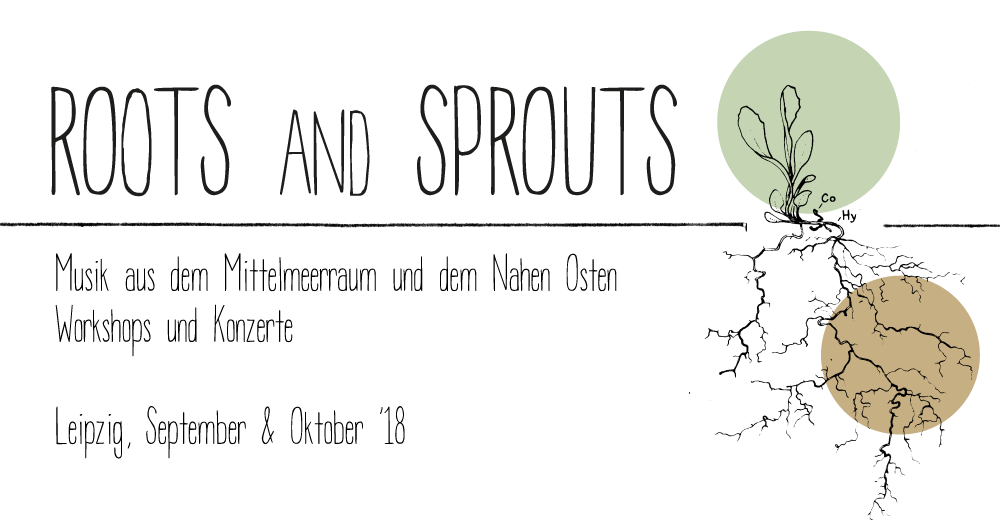 Roots and Sprouts Teil II – Concert: Milo ke mandarini | Amalaya
18. October 2018, 19:00 Uhr
Findet im Ost-Passage-Theater statt!!
::: English below :::
Milo ke Mandarini (Spanien)
Carlos Ramírez (Yaylı Tanbur, Zanfona, Lavta, Oud) und Isabel Martín (Gesang, Bendir, Square Tambourine of Peñaparda, Tam) aus Toledo (Spanien) gründeten das Duo Milo ke Mandarini, um die Musik des Mittelmeerraums intensiv zu studieren und bekannter zu machen. In ihrer eigenen Vision dieser Musik verbinden sie ihre traditionellen iberischen Wurzeln mit der Musik und Kultur des östlichen Mittelmeerraumes (Griechenland, Bulgarien und Türkei) zu etwas Neuem und sehr Persönlichem, und gehören bereits zum festen Inventar wichtiger iberischer und internationaler Folk Festivals. Sie werden begleitet vom Komponisten und Multi-Instrumentalisten Christos Barbas (Ney).
http://www.milokemandarini.com
Amalaya (Deutschland)
Bei dem Leipziger Projekt Amalaya treffen sich Argentinien, Deutschland und Syrien, wird der gesamte Mittelmeerraum besungen, verbinden sich lateinamerikanische Rhythmen und arabische Texte auf elegante Art und Weise, wird mal Land, mal Stadt, mal zeitgenössisch, mal traditionell nach Gemeinsamkeiten und Unterschieden gesucht, mal andächtig harmonisiert, mal tanzbar gemacht.
Amalaya sind Leandro Salvatierra (Gitarre, Gesang, Saiteninstrumente), Luise Rauer (Gesang), Joseph Augsten (Perkussion), Basel Alkatrieb (Oud), Fabian Klentzke (Klavier und Chalumeau), Antonio Morejón (Gesang)
___________________________
Milo ke Mandarini (Spain)
Milo ke Mandarini is a duo from Toledo formed in 2008 by Carlos Ramírez (Yaylı Tanbur, Zanfona, Lavta, Oud) and Isabel Martín (Voice, Bendir, Square Tambourine of Peñaparda, Tam) with the aim of investigating and promoting Mediterranean roots music. Together they have travelled to Greece, Bulgaria and Turkey soaking up the local music culture, returning home with a new vision for their own studies of the Iberian tradition. They have played at folk festivals all over the Iberian Peninsula and at many important national and international venues. In this concert they will be supported by the composer and multi-instrumentalist Christos Barbas (Ney flute).
http://www.milokemandarini.com
Amalaya (Germany)
Amalaya brings together in Leipzig Artists from Argentina, Germany und Syria. The Leipzig-based Project combines mediterranean songs with rhythms from Latin Amerika and arabic Lyrics, contemporary traces with traditional roots. Amalaya are Leandro Salvatierra (Gitarre, Gesang, Saiteninstrumente), Luise Rauer (Gesang), Joseph Augsten (Perkussion), Basel Alkatrieb (Oud), Fabian Klentzke (Klavier und Chalumeau), Antonio Morejón (Gesang)